Acura Dominates at the Pikes Peak International Hill Climb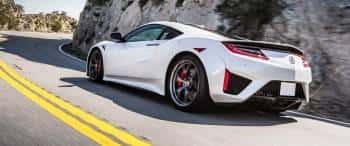 At a recent series of races held at the 95th annual running of The Broadmoor Pikes Peak International Hill Climb, Acura vehicles proved that they have the performance capacity to win races and set new scores. In competition with other popular, racing-ready vehicles, Acura was able to secure class victories, as well as set a new record. Continue reading to learn more about Acura's involvement in the races.
Vehicles with Racing Spirit
A number of different Acura vehicles were able to showcase their performance powers during the Pikes Peak International Hill Climb—helping to show the world that Acura vehicles have racing potential too. The Acura TLX GT, driven by Peter Cunningham, took on the 14,115-foot summit and finished second, while also setting a new open class record with a speedy time of just over nine and a half minutes. This performance earned Cunningham the coveted "Rookie of the Year" title as well. Next up, the 2018 Acura TLX A-SPEC made its racing debut and took first in the exhibition class with a time of 11 minutes and three seconds. Lastly, the Acura NSX with GT3-inspired modifications managed to snag third place in the Time Attack 1 class with a time of 10 minutes and three seconds. The Acura vehicles entered into this competition all performed exceptionally well and left quite an impression, however, as a first-time entrant, the 2018 Acura TLX A-SPEC's performance really stole the show. With such a successful finish this year, we can't wait to see what Acura is planning to bring to the table for the 96th Pikes Peak International Hill Climb.
Get Yourself in an Acura Today
You can also experience the great racing-inspired performance that Acura vehicles are able to provide. Your local Wisconsin Acura Dealer is sure to be stocked with all of the latest and greatest Acura vehicles, giving you a chance to test drive them to find your match. Don't wait too long to cash in on this availability. Visit a Wisconsin Acura Dealer near you or contact us online to learn more about our financing process and current offers we are running.