Acura Takes on Pikes Peak International Hill Climb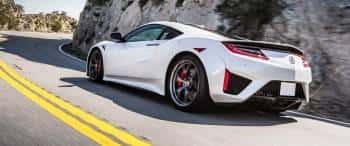 This year's Pikes Peak International Hill Climb is shaping up to be a fierce competition, but no manufacturer is more prepared for the challenge than Acura. Acura's drivers and engineers have performed exceptionally well over the past few years in this competition, taking the top prize in both the production and exhibition classes at various times. This year, Acura will be competing in a number of different Pikes Peak races, where they'll be showing off several new models that have never driven the Pikes Peak path before now.
The Pikes Peak International Hill Climb
This year's competition is the 95th Pikes Peak International Hill Climb, and the competition has grown in popularity and importance every year since its inception. It's slated to begin on the 25th of June, and drivers everywhere are already on the edge of their seats, waiting to see who comes out on top! The Pikes Peak International Hill Climb website offers a detailed introduction to the specifics of the race, but if you're like most of the drivers we know, then you're probably more curious about the cars that will be competing. This year, Acura vehicles like the 2017 Acura NSX and the Acura TLX GT will be making their return to the track, while all-new offerings like the 2018 Acura TLX A-SPEC will be making their racing debut!
We could say plenty of good things about all of these high-performance machines, but special attention must be paid to the NSX, which has pulled off impressive victories on Pikes Peak in the past! In fact, the 2017 Acura NSX won the race that it was entered in just last year—and it's likely to perform even better this time around. To help the NSX reach its maximum potential, Acura has outfitted the model that will compete at Pikes Peak with a bigger wing and a front splitter, and they've also optimized its Super Handling All-Wheel Drive for superior performance at high altitudes.
Take an Acura for a Test Drive!
If you like what you see in Acura's vehicles, be sure to stop by one of our Wisconsin Acura Dealers locations to take your favorite for a test drive! Reach out to us today to learn more about our current offers and financing options.