Acura's SH-AWD Is the First of Its Kind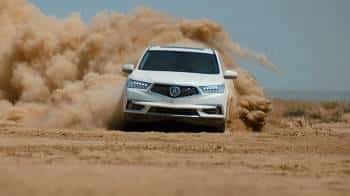 Ever at the cutting edge of innovation, Acura offers Super Handling All-Wheel Drive (SH-AWD), which is the first system of its kind. This continues to be a pioneering feature found onboard Acura models, facilitating nimble handling and cornering. SH-AWD has been named one of Autotrader's "Top All-Wheel-Drive Systems."
Keep reading to learn more about Acura's innovative SH-AWD—then visit your nearest Wisconsin Acura Dealers location to test drive a variety of high-quality Acura models that are equipped with this state-of-the-art system!
First of Its Kind
Acura's SH-AWD is the automotive market's first four-wheel-drive system that can deliver optimal torque to all of a vehicle's wheels. This means drive torque that is typically used only to move an automobile forward can also be utilized for steering and cornering.
SH-AWD greatly enhances maneuverability. The ability to apply additional torque to an automobile's outside rear wheel makes turning more deft and nimble, enabling a better driving experience overall.
Acura vehicles that feature SH-AWD include:
How It Works
With SH-AWD, engine torque is distributed to all four of a vehicle's wheels via electromagnetic clutches. This allows torque to be freely regulated among a car's rear wheels.
As electromagnetic clutch grip is tightened, the amount of torque going to a vehicle's rear wheels is increased. At the same time, the torque being sent to the automobile's front wheels is decreased by that same amount. In this way, the system can regulate torque distribution among all four wheels.
When a vehicle goes into a curve on a road, the electromagnetic clutch grip that is connected to the car's outer rear wheel is tightened even more, creating a stronger connection for distributing added torque to that side of the vehicle. The result of this is added force being transmitted to the surface of the road.
Using this simple principle, SH-AWD is able to deliver continuously variable torque distribution in a variety of ranges.
Experience SH-AWD
Drivers can check out a variety of high-end Acura models equipped with SH-AWD and get a great deal on a new vehicle at any Wisconsin Acura Dealers location. Come in and see us or contact us today to explore Acura's exciting lineup and to test drive your favorite models!