Performance Features of the 2018 Acura NSX
Performance Features of the 2018 Acura NSX
The 2018 Acura NSX is finally making its way to Wisconsin's Acura Dealers, and drivers in the area have every reason to get excited about its arrival. Every component in this precision-crafted supercar has been optimized to deliver unparalleled performance, and when we look to its specifications, we see that the Acura NSX's horsepower leaves nothing to be desired. Commenting on this year's updated NSX, the writers at Car and Driver declared, "buyers can expect the same spine-tingling performance as last year's model delivered while still enjoying a signature NSX trait: a surprisingly accommodating ride." We think that's something to celebrate.
2018 Acura NSX Horsepower
3.5-Liter DOHC Twin Turbo V6
406 lb.-ft. @ 2000-6000 RPM
109 lb.-ft. @ 500-2000 RPM
54 + 54 lb.-ft. @ 0-2000 RPM
Total System Measurements
A Racetrack-Ready Hybrid Drivetrain
The original NSX was phased out of production in 2005, and when the fully redesigned and upgraded NSX reappeared in 2017, drivers everywhere agreed that it was unlike any other vehicle on the road. Although this year's model is unchanged from 2017, its horsepower, torque, and precision hybrid handling capability have allowed it to carve out a niche that none of its rivals can touch.
Integrated Dynamics System: When you drive the NSX you can alternate between Quiet, Sport, Sport+, and Track modes whenever the mood strikes you. Each mode makes adjustments to the function of eleven different drivetrain components and features, so you can strike the perfect balance between performance, poise, drivability, and engine roar. When you take advantage of this feature, you'll feel at home in the city as well as on the racetrack.
Sport Hybrid Drivetrain: The NSX's Sport Hybrid SH-AWD Power Unit independently controls each set of wheels using a 3.5-Liter engine and direct power inputs from three electric motors. Each of the NSX's front wheels is managed by one of two 36-hp electric motors in its Twin Motor Unit (TMU), while its rear wheels have been paired with the engine and a 47-hp Direct Drive Motor that allows for rapid acceleration from a standstill.
Super-Handling All-Wheel Drive: Acura's signature Super-Handling All-Wheel Drive system utilizes the NSX's power sources to provide superior control around every turn. When the system is active, this supercar's Twin-Motor Unit (TMU) delivers a burst of torque to the appropriate front wheel when you're moving around a corner, for remarkable precision and quicker acceleration no matter where your adventures take you.
Braking and Handling: With the lowest center of gravity in its class, the NSX handles like a dream! High-performance summer tires come standard, and ultimate handling performance tires are available for folks who upgrade. What's more, thanks to its High-performance Brembo hydraulic brakes and its hybrid regenerative braking capability, this sportscar can respond to your every command with little to no delay. Floating Carbon Ceramic Disk Brakes are an option for drivers looking to maximize their control at the wheel.
3.5L DOHC Twin Turbo V6: The 2018 NSX's longitudinally mid-mounted Twin-turbocharged DOHC V6 engine is the central component of this supercar's Integrated Dynamics System. On its own, it's able to generate 500 hp between 6500 and 7500 RPM and as much as 406 lb.-ft. of torque between 2000 and 6000 RPM—and both measurements increase significantly when we factor in the NSX's additional electric motors. The NSX's powertrain also utilizes a 9-Speed Dual Clutch Transmission, a 24 Valve IN/EX VTC, chain-driven camshafts, dry sump lubrication, and a drive-by-wire throttle system.
NSX Fuel Economy: Drivers familiar with high-powered sports cars may not be expecting the NSX to offer much in the way of fuel economy. However, since the NSX is also a hybrid, it's relatively efficient in comparison to its rivals. You'll get 21 mpg in the city, 22 mpg on the highway, and 21 mpg in combined city/highway settings*.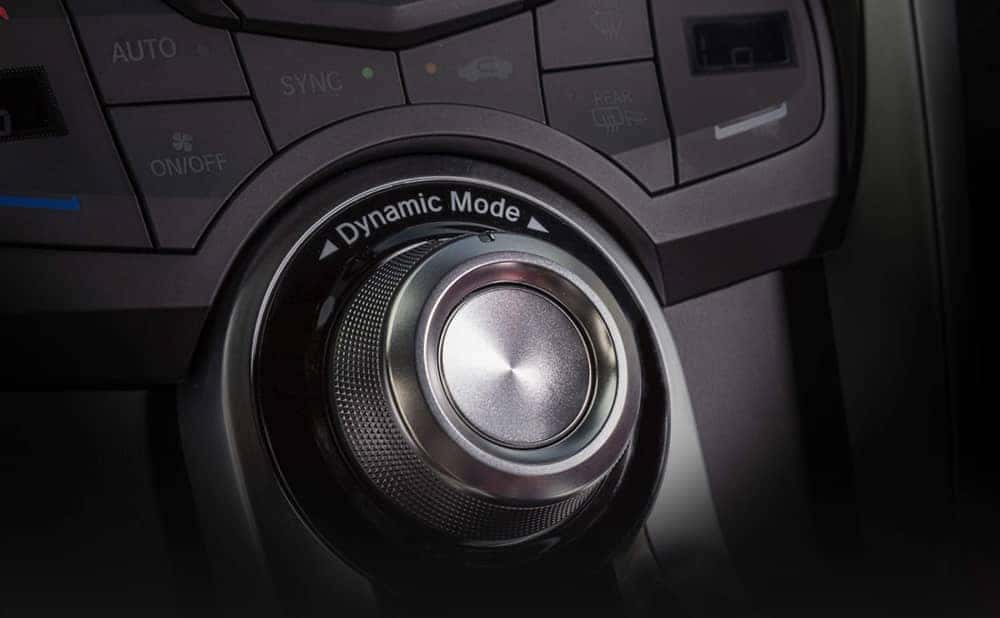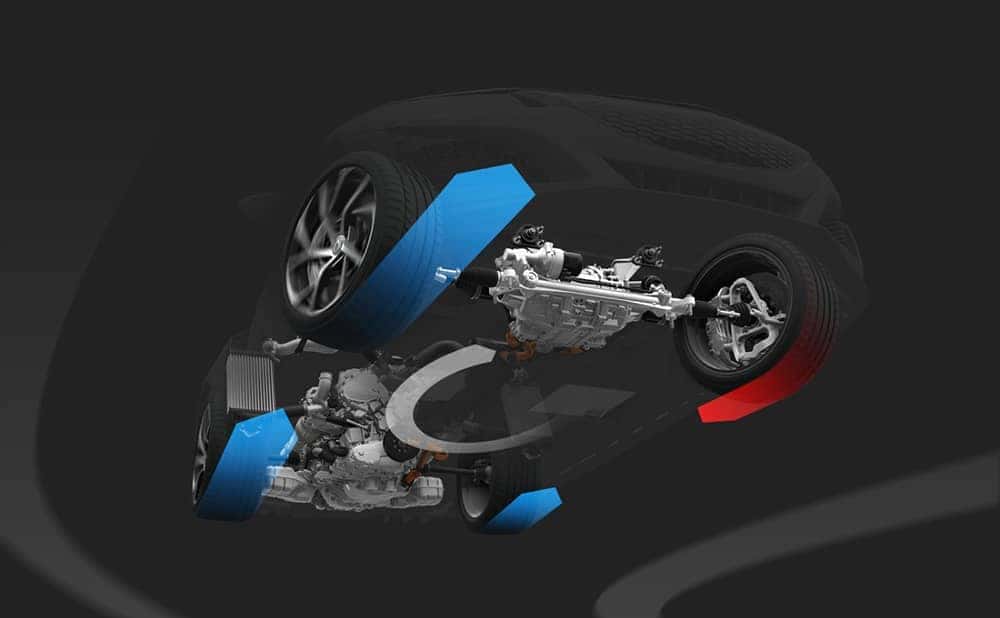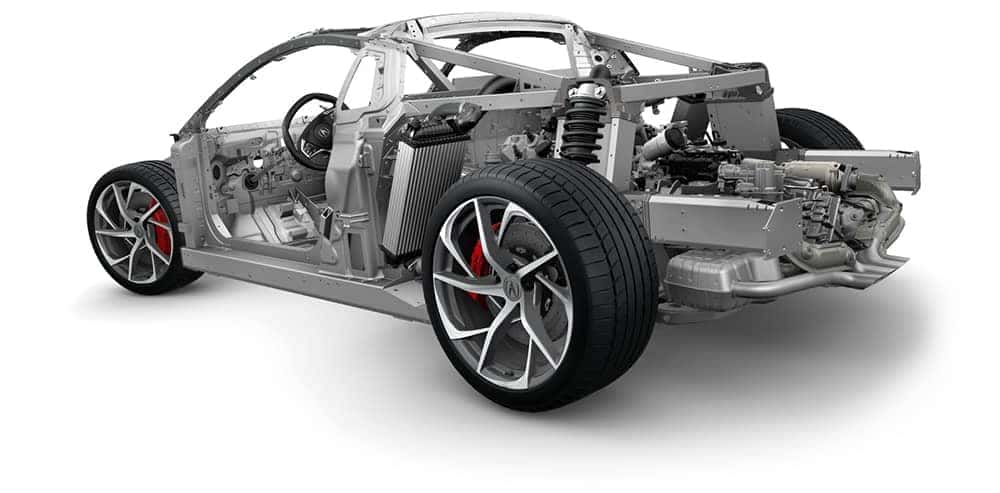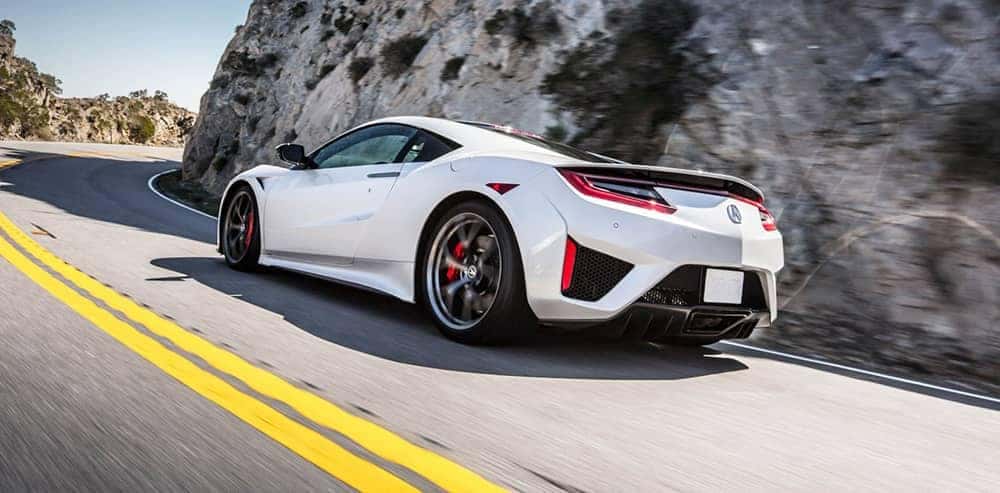 Function and Fashion with the NSX Exterior
Many of the NSX's most exciting features are hidden under its hood, but its frame and exterior features are anything but superficial.
Multi-Material Construction: In order minimize the NSX's weight, lower its center of gravity, and ensure stability when you're pulling out all the stops, the engineers at Acura have built the exterior with ultra-light materials like carbon fiber, sheet molding compound, sheet hydroformed aluminum, and more. Its Space Frame is comprised of high-strength steel, highly rigid aluminum extrusions, and ablation-cast aluminum frame nodes—and the result is a smoother, more controlled ride.

Total Airflow Management: Thousands of hours of computational fluid dynamics testing have informed the design of the NSX, and the results are clear to see. No fewer than ten sculptural air intake valves allow the NSX to cut through the air with ease, and they also cool this supercar's power unit components and brakes! Extended aerodynamic side view mirrors and generous rear downforce prevent the wind from steering you off course.

Suspension and Adaptive Dampers: The 2018 NSX has been engineered with lightweight, dependable suspension and third-generation magnetorheological (MR) dampers. The dampers make minute adjustments to your suspension more than 1000 times per second, so you'll enjoy superior ride quality even when the roads are working against you.