The Acura NSX Interior Perfectly Unites Driver with Machine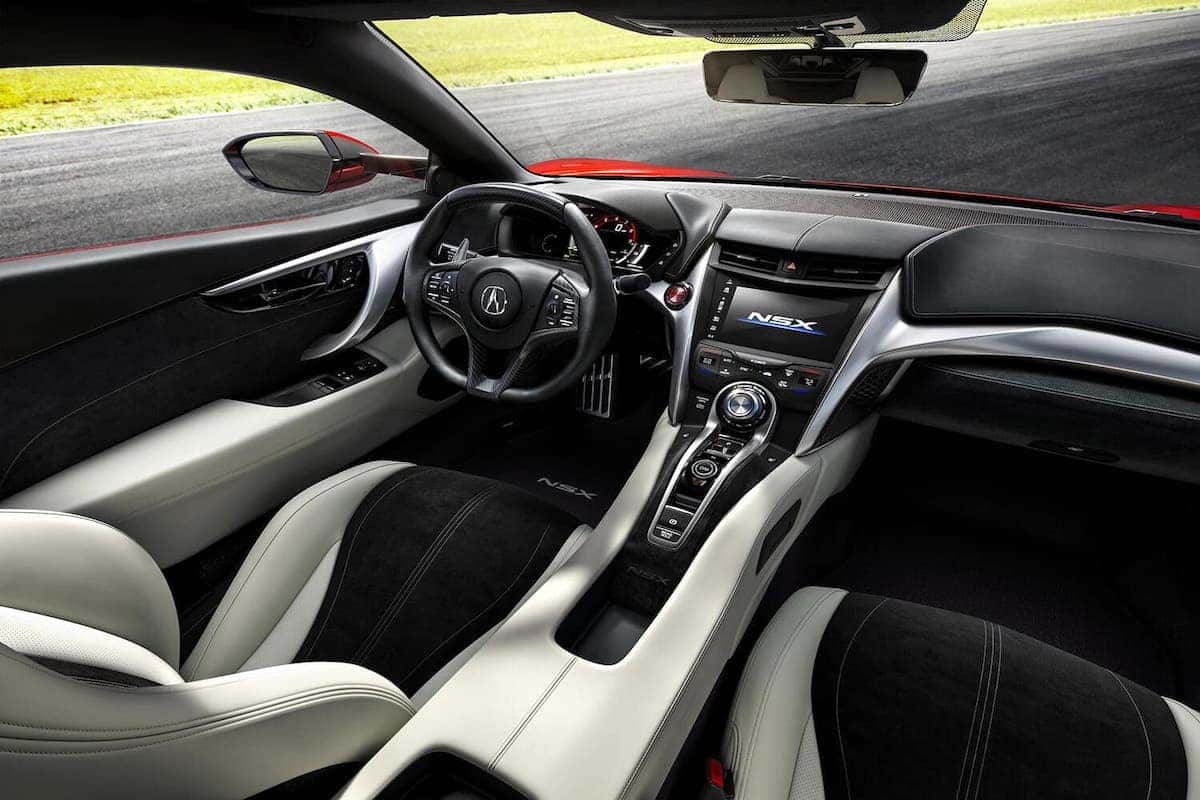 Interior Design
The Acura NSX interior has been designed to evoke a sense of driving purity. Maintaining a sense of upper-class elegance, it uses minimalist styling to bring out the spaciousness of its dimensions and provide a richly supportive domain for the driver.
The cockpit is designed to put everything from acceleration to braking perfectly under your control, and even the steering wheel has been artfully crafted with:
Slightly-indented holds at both 10:00 and 2:00 and 9:00 and 3:00 for a tailormade hold and immediate access to the paddle shifters
Tailored leather finished with hidden stitching for a perfect grip
Race inspired shape for an unobstructed view over the top and excellent leg clearance at the bottom
The accelerator, brake pedal, and left footrest are all of polished aluminum to create a track-inspired look and facilitate quick heel toe action, and ultra-slim A-pillars ensure a sweeping view of the road ahead. Even the frameless mirror and slender side mirror stalks help eliminate any disconnection between driver and road.
Using several drive modes, you can actually customize how sound enters the cabin:
Quiet Mode: Exhaust gases pass through silencers for a whisper-quiet ride.
Sport Mode: Exhaust valves open on driver demand for a throatier roar.
Sport+ and Track Modes: Exhaust gases bypass the silencers entirely to produce a sound that quickens the pulse of all driving enthusiasts.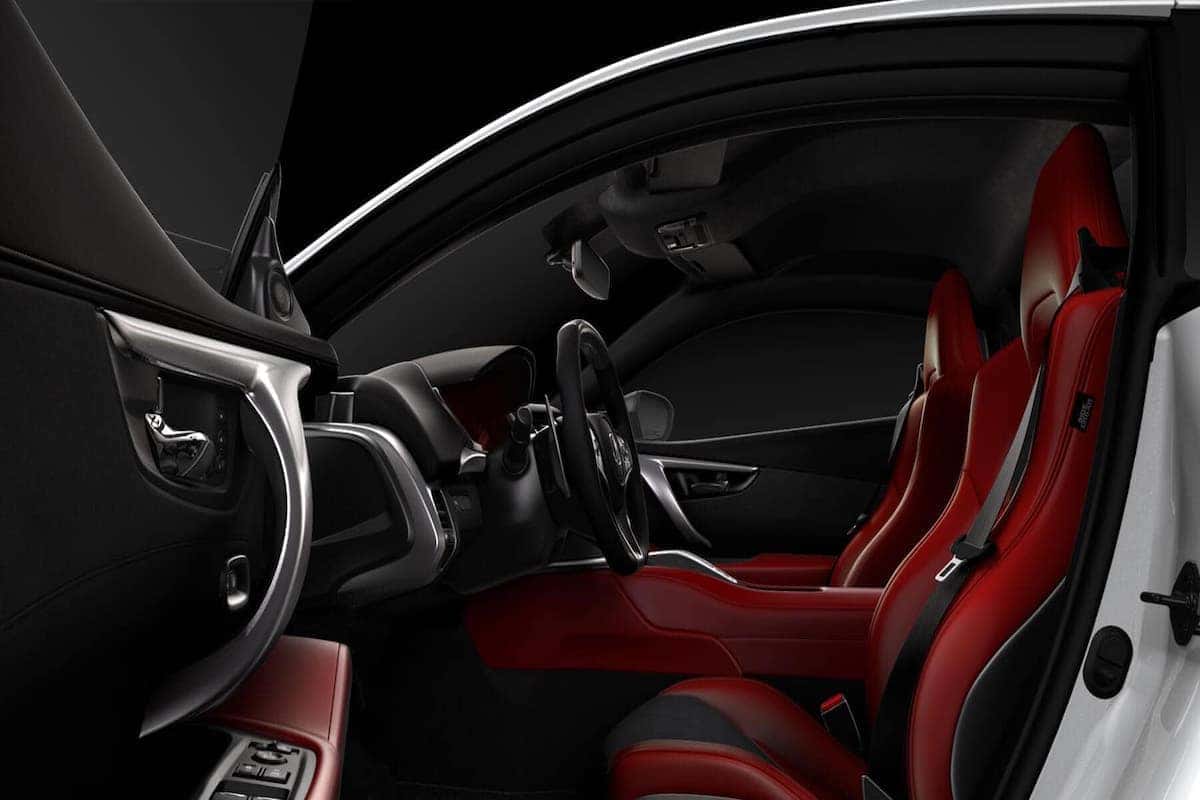 Comfort and Style
The Acura NSX seats were designed to provide grip and reduce lateral movement, with ergonomic padding at the knees for supercar comfort.
Available seating options include:
Semi-Aniline Leather and Alcantara
Milano Leather and Alcantara
Semi-Aniline Full Leather
Available interior Acura NSX colors include:
Indigo
Ebony
Orchid
Saddle
Red
As you might expect from a top-tier vehicle like the Acura NSX, several comfort features have been added while keeping weight to a minimum, including dual-zone automatic climate control and an auto-dimming rearview mirror as standard.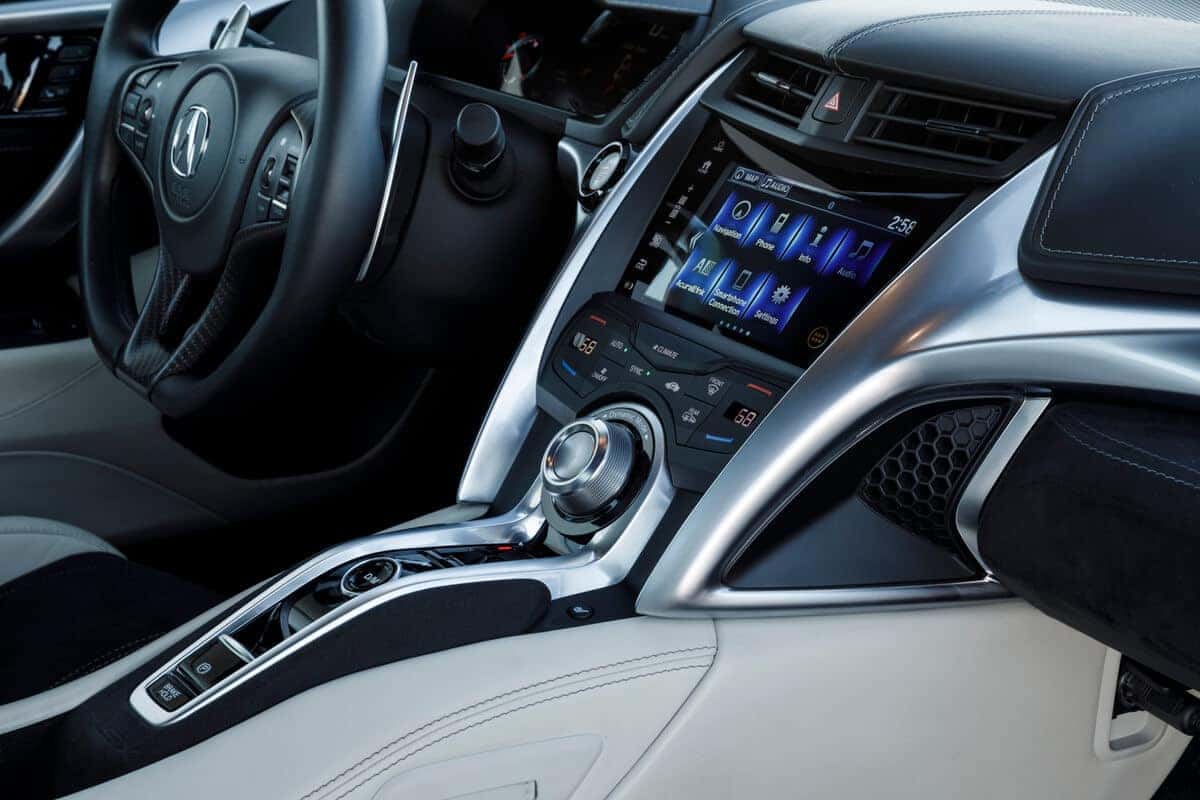 Technology
As noted by Edmunds.com: "The 2019 Acura NSX is one of the more technologically advanced sports cars out there." Even as standard, the vehicle offers an enticing suite of high-end features, including:
7-Inch Touchscreen: Allows easy control over everything from music selection to Bluetooth smartphone management.
GPS Navigation: Provides sharp graphics and turn-by-turn directions to take the Acura NSX anywhere it needs to go while you focus on enjoying the drive itself.
Apple CarPlay/Android Auto Smartphone Integration: Bring your contacts list, music library, and select apps from smartphone to onboard infotainment system.
AcuraLink Smartphone Connectivity: Take command of your vehicle and access key information from afar using your smartphone and the supported app.
ELS Studio® Premium Audio System: Tuned by Grammy® award winner Elliot Scheiner, the premium sound system features nine speakers, including two super-charged door speakers and an ELS-first rear-center speaker, and 580 watts of amplification. Satellite radio comes as standard.