Acura MDX Horsepower, Torque, and Fuel Economy
| | | | |
| --- | --- | --- | --- |
| | Horsepower | Torque | Fuel Economy |
| MDX FWD with 3.5-Liter V-6 | 290 hp | 267 lb.-ft. @ 4700 RPM | 20 mpg City, 27 mpg Highway, 23 mpg Combined* |
| MDX SH-AWD with 3.5-Liter V-6 | 290 hp | 267 lb.-ft. @ 4700 RPM | 19 mpg City, 26 mpg Highway, 22 mpg Combined* |
| MDX SH-AWD Sport Hybrid with 3.0-Liter V-6 and 3 Hybrid Motors | 289 hp (System Combined Horsepower) | 289 lb.-ft. (System Combined Horsepower | 26 mpg City, 27 mpg Highway, 27 mpg Combined* |
The 2019 MDX comes standard with a 3.5-Liter Direct Injected V-6 engine. However, those who upgrade with AWD versions of the Technology or Advance Packages will have the option to replace their engine with a Sport Hybrid combination system that includes a 3.0-Liter Port-Injected V-6 engine, Dual Rear Motors, and an additional Front Motor. This latter option's 3-Motor Hybrid system significantly improves fuel economy in the city, and it isn't the only exciting upgrade that the MDX's drivers should consider! We've detailed a few of this model's most exciting standard features and options in the space below.
Fuel-Saving Features: Idle Stop and Variable Cylinder Management have both been included as Standard features across every 2019 MDX package and trim level. Idle Stop partially deactivates your MDX's engine whenever you're at a standstill, eliminating much of the unnecessary fuel consumption that goes hand-in-hand with city driving. Variable Cylinder Management allows several of your engine's cylinders to rest when you're cruising in a high-gear.
3-Motor Hybrid System: Both the Technology and Advance Packages can be upgraded with a 3-Motor Hybrid System that boosts fuel economy while improving performance. The system includes Dual Rear Motors as well as a single powerful Front Motor. Both use torque-vectoring technology in order to deliver quicker acceleration and improved response times.
Transmission Options: Non-hybrid models receive a 9-Speed Automatic Transmission with Sequential SportShift Paddle Shifters, while Sport Hybrid builds are outfitted with a Motor-Integrated 7-Speed Dual-Clutch Transmission. A DCT uses separate clutches for odd and even gears, ensuring seamless shifting as you're getting up to speed.
Integrated Dynamics System: The MDX comes standard with an Integrated Dynamics System that offers three driving modes: Comfort, Normal, and Sport! Those who upgrade with the Sport Hybrid drivetrain system will gain access to an additional Sport+ setting, which further enhances your vehicle's throttle response and steering feedback.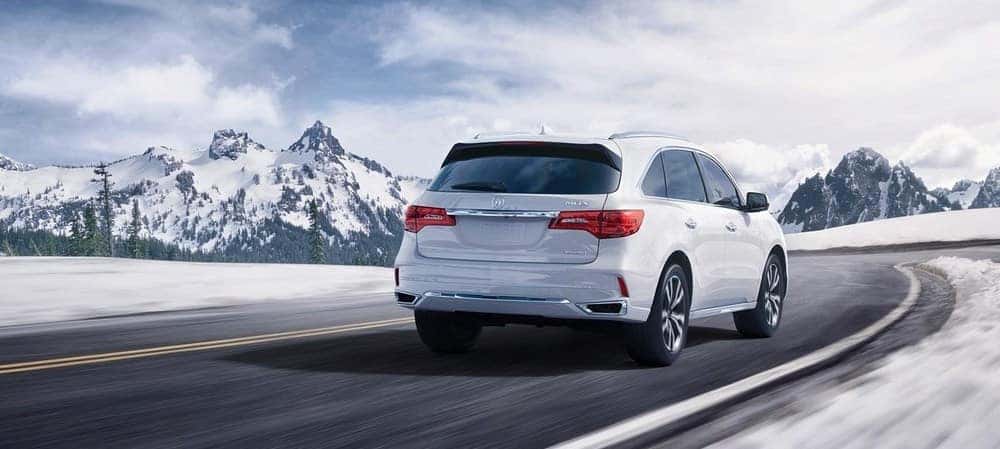 Ready for Anything: Acura MDX Towing Capacity, Ground Clearance, and All-Wheel Drive
| | | |
| --- | --- | --- |
| | Towing Capacity – FWD | Towing Capacity – AWD |
| 2019 Acura MDX | 3500 lbs. | 5000 lbs. |
The ability to haul heavy loads of cargo is just one of the characteristics that has made the MDX so popular with Wisconsin's busy and adventurous drivers. Each available model offers standard features and options that can make every challenge more manageable, and every drive more enjoyable. Acura's all-wheel drive lineup continues to grow each year, but the MDX remains as irreplaceable as ever!
Active Damper System: Every MDX includes Amplitude Reactive Dampers, which make constant, minute adjustments to your suspension in order to ensure a smoother ride. When you upgrade with a Sport Hybrid drivetrain, both the Technology and Advance Packages impart an Active Damper System which you can use to adjust your vehicle's suspension on the fly, according to changing road conditions.
Front Wheel Drive or All-Wheel Drive: The Front Wheel Drive MDX is lighter and more aerodynamic that ever before, and as a result, it gets better fuel economy ratings relative to the All-Wheel Drive MDX. The latter, however, offers improved control and handling—without much of a drop in efficiency. Regardless of which you settle on, Agile Handling Assist will come standard on the model of your choice.
Tires, Wheels, and Ground Clearance: Each MDX package offers a different set of tires, varying between 18-inches and 20-inches in diameter. Differently-graded High-performance All-Season Tires also come standard with each trim, but no matter which you select, you'll enjoy 7.3 inches of unladen ground clearance—more than enough to get you anywhere you want to go!