A Peek into the 2018 Acura TLX Integrated Dynamics System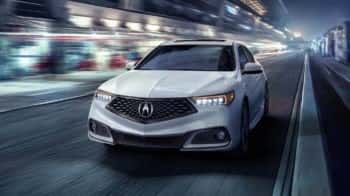 The 2018 Acura TLX is a luxury sedan with a lot to offer Wisconsin drivers. As shown by the vehicle's recent win at the 95th Pikes Peak International Hill Climb, there's a lot of performance potential just waiting to be unlocked by curious and sporty drivers. One of the ways the TLX makes this possible is through its integrated dynamics system. Stay with us to learn more about this system and how it can enhance your driving experience.
About the Acura Integrated Dynamics System
Basically, the integrated dynamics system, or IDS for short, is a set of various drive modes that is tailored to the current environment you're in or the kind of driving experience you're looking for. In total, the 2018 Acura TLX has four different drive modes meant to give drivers more control. Take a look at these modes below:
Econ – This drive mode focuses on providing a boost in efficiency by decreasing pedal sensitivity, slowing the cooling process, and tuning the transmission to provide more precise shifting and smoother steering.
Normal – The Normal drive mode is what the TLX automatically operates on. It provides drivers with a great balance in all performance and efficiency aspects to provide an easy-to-handle everyday driving experience.
Sport – Those looking for a bit more responsiveness when driving will enjoy Sport Mode, which is finely tuned to increase throttle response, make the P-AWS or SH-AWD systems deliver more aggressive engagement, and create a firmer steering feel.
Sport + – The final drive mode focuses on giving drivers the sportiest driving experience the TLX has to offer. In this mode, throttle is increased, steering is firmer, the transmission shifts at a higher rpm, natural engine noise increases, and paddle shifters become fully manual.
See More at Wisconsin Acura Dealers
While the IDS is interesting, there's still much to be learned about the 2018 Acura TLX. Come down to your nearest Wisconsin Acura Dealer and take the vehicle for a quick spin today. You can also contact us online with inquiries regarding financing, current offers, and more.