Explore the Redesigned 2018 Acura RLX

The 2018 Acura RLX doesn't just make minor enhancements over the 2017 model; instead it takes a new route and completely redesigns and re-brands itself for a new year—coming locked and loaded with plenty of new and exciting features, looks, powertrains, and much, much more. To learn what new things are coming with this new model, stay tuned!
Things Are Changing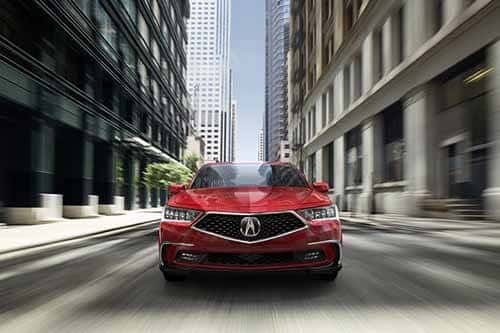 The redesign of the 2018 Acura RLX comes with a long list of changes that will ultimately make the vehicle the highest-performing sedan in Acura's lineup. The main focus of this redesign is to bring a sportier look and more performance potential to the RLX, which is easily done in a number of ways. When it comes to looks, additions to the vehicle such as newly designed LED taillights, a gloss black rear diffuser, a more sculpted hood, dual exhaust finishes, and a new wheel design help to provide that sporty look Acura was going for. The sportier performance can be attributed to the RLX taking cues from the NSX supercar and borrowing its impressive Sport Hybrid Super-Handling All-Wheel Drive system, which quickly boosts the RLX to an incredibly sporty sedan.
Another area where we can find new features is in the safety and security department. Not only will AcuraWatch now be standard on the 2018 Acura RLX, but it will include an all-new feature debuting on Acura vehicles—traffic jam assist will work in conjunction with features such as adaptive cruise control with low-speed follow to help drivers relax and reduce stress during high traffic situations. There's still a lot that we've yet to cover, but with everything we've seen so far, it's safe to say the 2018 Acura RLX will be much more than we could have ever imagined.
Learn More at Wisconsin Acura Dealers
Like we said, there's still much more to learn about the upcoming release of the 2018 Acura RLX. Don't hesitate to drop by your nearest Wisconsin Acura Dealer or contact us online.