Experience the 2017 Acura MDX Sport Hybrid!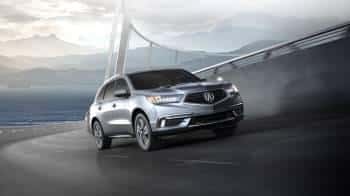 Wisconsin drivers who want more out of their next full-size SUV are in luck! The celebrated Sport Hybrid powertrain, which has never been offered in an SUV before, is finally available in the 2017 Acura MDX! Sport Hybrid power gives the MDX capabilities that vastly exceed those of competing SUVs. Compared to the already-impressive gas-burning MDX, the MDX Sport Hybrid offers "better handling, improved fuel economy and 30 additional horsepower," according to the folks at Autotrader.com. The standard MDX already towered over the offerings of other manufacturers, and now that it's available with Sport Hybrid engineering, its dominance is even more secure!
Get More From Your SUV!
When Wisconsin drivers hear the word "Hybrid," they may not immediately think of the SUV segment! Members of the latter are well-known for their power and carrying capacity, but more often than not, they're lacking in efficiency. However, in equipping the MDX with a Sport Hybrid powertrain, the engineers at Acura have figured out how to combine everything their drivers love about SUVs with the next-generation potential of Hybrid power. The MDX Sport Hybrid—with 26 mpg city, 27 mpg highway, and 27 mpg combined*—is much more efficient than other MDX builds, but it's also much more powerful! Sport Hybrid outfits, which come equipped with a 3.0-Liter V-6 and three electric motors, offer a total system horsepower of 321, and combined torque of up to 289 lb-ft.! It's standard 7-speed Dual Clutch Transmission ensures that you'll experience minimal slippage when you're advancing to higher gears, and with Sport Hybrid Super Handling All-Wheel Drive (SH-AWD), you'll enjoy handling capability that no other SUV can hope to match.
See For Yourself!
We've only just scratched the surface of what the 2017 Acura MDX Sport Hybrid can do, but the best way to learn more is to take it for a test drive! We're sure that you'll love how you feel behind the wheel, and we're offering tons of special offers and finance options for Wisconsin drivers. Visit the showroom closest to you to take a closer look at the MDX Sport Hybrid today.