Safety Comes Standard in the 2017 Acura ILX
Actively Assisting
The following features include active safety features; these are features that work full time to ensure the safety of the vehicle and its passengers.
Adaptive Cruise Control – This system comes in handy by making driving both easier and safer. It gives drivers the ability to choose among three vehicle detection intervals between the driver and the car it is following, making the daily commute easier than it would be with conventional cruise control.
Collision Mitigation Braking System – If this system senses the possibility of a frontal collision, it will work quickly to alert the driver of the danger and prompt them to apply the brakes. However, if the driver doesn't have enough time to react, the system will apply strong braking to reduce the overall impact of the crash.
Lane Keeping Assist System – It's not all that uncommon for drivers to accidentally drift out of their intended lanes, which is why this system's job is to alert drivers when they have begun to drift into another lane without signaling a change. From here, the system will help correct your steering to keep you in your designated lane.
Road Departure Mitigation System – With the help of a camera, this system identifies the side of the road and alerts drivers if they sway off the beaten path.
Blind Spot Information System – Blind spots have finally been eliminated. This system is equipped with a camera that can see into your blind spot and then alert you with audio and visual warnings to let you know if it isn't safe to switch lanes yet.
Rear Cross Traffic Monitor – Working hand in hand with many of the other safety features on the ILX, this system utilizes rear parking sensors to alert the driver if there is someone or something approaching their vehicle from either side while reversing – making it much easier to get in and out of crowded parking lots safely.
Multi-View Rear Camera – Available with guidelines on the Technology Package, the rearview camera gives drivers three different angles through which to view the area behind their vehicle. When used in conjunction with the Rear Cross Traffic Monitor, it'll be almost impossible to miss anything coming your way while reversing.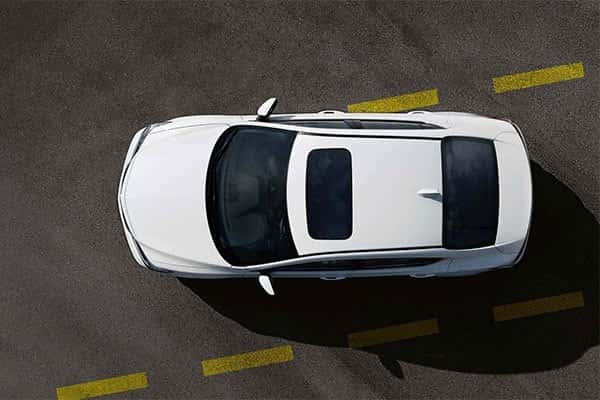 Playing Passively
The next set of safety features plays a more passive role, waiting in the wings for when they are needed most.
LED Daytime Running Lights – Even in the daytime we need to be able to see other vehicles on the road. These LED lights make it possible to reflect light from equipment like running shoes or bikes equipped with reflective technology—allowing both drivers and pedestrians to be safer.
Tire Pressure Monitoring System – Keeping the tires on your vehicle is extremely important if you expect to achieve the best possible efficiency and performance. If your tire pressure begins to get lower than the ideal pressure needed to do this, the system will alert you via the multi-informational display.
Vehicle Stability Assist – Alongside traction control and motion adaptive steering, the Vehicle Stability Assist system helps to keep the vehicle performing at ideal levels for the terrain and weather conditions.
ACE Body Structure – Short for Advanced Compatibility Engineering, this specialized body structure is engineering in a way that is able to better distribute the impact of a collision throughout the vehicle in order to minimize damage to the passengers and other involved vehicles.
Airbags – The ILX safety system comes complete with a wealth of great airbag systems—including dual-stage, multiple-threshold front airbags, side curtain airbags, and front side airbags with a passenger-side occupant-position detection system—that are ready to protect passengers if and an accident occurs.